Description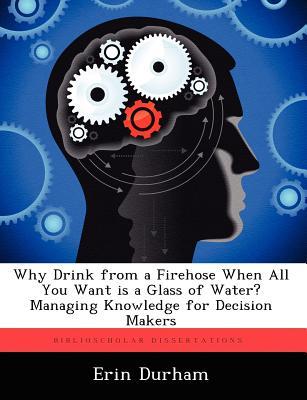 Why Drink from a Firehose When All You Want Is a Glass of Water? Managing Knowledge for Decision Makers by Erin Durham
October 3rd 2012 | Paperback | PDF, EPUB, FB2, DjVu, AUDIO, mp3, RTF | 46 pages | ISBN: 9781249587279 | 10.14 Mb
A Major Command generates a vast amount of information and this volume is growing exponentially. The increase in operations tempo and short notice deployments require the rapid fusion of this information to ensure a quick response and decisiveness in any crisis. The Air Force needs a system that allows commanders to sort through the flood the information, find the insight they need, and quickly make the right decisions.
This paper focuses on the field of knowledge management and the technological benefits of thin client architecture, intranets, and the World Wide Web. It also explores ways to improve the knowledge base available to MAJCOM, NAF, and Wing Commanders and their senior staffs. In addition, this paper makes recommendations for Air Force implementation of knowledge management solutions so that the Air Force can evolve into an ever more potent information superiority force.
It is now time for the Air Force to embrace knowledge management as a requirement for operating effectively in the 21st century.